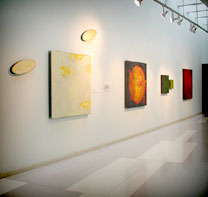 Reviews
These paintings are hauntingly beautiful. They speak of surfaces and depths. Those who are compelled to ponder the appearance of things will be rewarded by Eleanor Schimmel's newest work….
Libby Newman, Curator of Exhibitions
The Esther M. Klein Art Gallery
Eleanor Schimmel's encaustic paintings, for example, feature richly encrusted lozenges that hover mysteriously in ambiguous space. Their texture and mood recall the landscapes of Albert Pinkham Ryder, but without Ryder's explicit symbolism.
Helen A. Harrison
New York Times
Schimmel's examination of themes is more reductive and intensely symbolic. Her images are mystical in an archaic way, implying both the enormous vitality of nature and its historical continuity…painted in an atavistic manner that makes it seem like a neolithic icon.
Edward J. Sozanski
Philadelphia Inquirer
Schimmel's paintings are exquisitely layered with the use of encaustic. The carved and enamel-like surfaces leave one with unsurpassed access to interpretation. …the suspended forms embody spiritual transcendence as they seem to take off. Their bulk sets up a conductive power…and a primordial distillation of relationships opens awesome associative activity.
Eleanor Levine
Cover Magazine
Eleanor Schimmel treats paint as a sculptural medium. Ms. Schimmel builds it into multilayered reliefs with mystical overtones.
Helen A. Harrison
New York Times